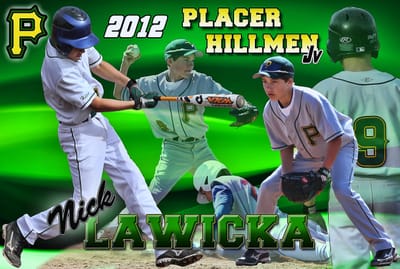 GetPixelized Pro-Style Sports Posters

GetPixelized Action Photos specializes in youth sports action photography and CUSTOM sports posters. We will design a CUSTOM sports poster of your "Athelete" using digital photos you provide to us, or taken by us. You can schedule a photographer to come to your sports event to capture those action photos of your "Sports Star" to be used on your CUSTOM sports poster.
Our posters are completely custom made - We do not use Cheap Looking "bought" templates like most of those other website photographers offer. We create a totally unique design that is personally made for your "Sports Star" that you will not see anywhere else.

WHAT WE DO - We take your photos you send to us (or the photos we take for you) and we customize your collage with individual team colors, numbers, names, dates, statistics, or however you would like to customize it, creating a Custom unique sports poster. In just a few days, when the Poster is complete, we e-mail a watermarked the proof to you for your review. We'll make any changes necessary (2 edits are included with the initial design. Additional edits require and additional "Change Fee" depending on the extent of the edits) to make it perfect and just the way you want it. When you approve it, we'll have it printed and mailed or delivered directly to your front door.
Pro-Style Sports Posters require a NON-REFUNDABLE $100.00 deposit to be applied to any purchase made when complete. Digital images of your finished Pro-Style Sports Posters on a DVD start at $175.00. Pro-Style sport posters can be printed on Dye Sublimation Aluminum for that "Work of Art" presentation

Dye Sublimation Metal Prints
20x30 = $375.00
24x36 = $425.00
30x40 = $475.00
30x45 = $525.00
32x48 = $575.00
40x40 = $625.00

NOTE:
*ALL PRICES INCLUDE SALES TAX
** ALL PRINTS INCLUDE A 1X3 FRAMELESS WOOD MOUNT
APPLIED TO THE BACK UNLESS YOU DESIRE NOT TO HAVE ONE.

ANY CUSTOM SIZE YOU DESIRE CAN BE PRINTED UP TO 42" X 62"