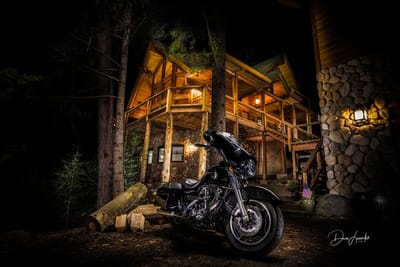 GetPixelized CUSTOM ONE-OF-A-KIND Light Paintings

GetPixelized Photography specializes in CUSTOM ONE-OF-A-KIND Light Paintings. You can schedule a photoshoot with just about ANY subject matter to be turned into your own ONE-OF-A-KIND Custom Light Painting photograph. Light Painting (or painting with light) is a technique of using off camera lighting (flash lights, LED light panels, Spot lights and light wands) to create a layering of lighting and shadows that simply cannot be achieved with traditional strobes or flashes. Routinely as many as 100-300 +/- images are taken "in camera" and then processed in Adobe Lightroom and Photoshop before being "Layered" into ONE final image. The FINAL image becomes a one of a kind image that is almost impossible to exactly replicate. These images when printed on high quality Dye Sublimation Aluminum make the image practiaclly "Jump Off The Wall." The final result is a ONE-OF-A-KIND piece of art worthy of showcasing in your home. Just a few of the subjects I have recently photographed to create a Light Painting have been; Cars, Motorcycles, Airplanes, Police Officer Duty Gear, Businesses (inside and out), Wedding Props and Attire, Products (Wine and cheese), Sports Gear, Homes, and the list goes on. You want it, I can light paint it.

Please have a look through my Light Painting Gallery to find your idea or inspiration.

GetPixelized ONE-OF-A-KIND Light Paintings Pricing

GetPixelized Light Painting photoshoots start at $300 (low Resolution Jpeg) AND $600 (High Resolution Jpeg) for simple (3-4 items) tabletop scenes and SINGLE vehicle (Cars and Motorcycles) scene Photoshoots. Complex Tabletop (5 or more items), Multiple Vehicles, Airplanes, Buildings or LARGE complex scenes are at additional cost. A typical light painting scene will take between 2-3 hours to light paint. An additional hour is needed for scene setup. Outdoor scenes typically start 1 hour PRIOR to sunset to all the capture of any sunset or "blue hour" skies.
Please contact Dave Lawicka for a quote today.
NOTE: ALL Light Painting scenes are ONE OF A KIND and will NOT be printed and / or sold to anyone else UNLESS you request or authorize the additional prints.

Dye Sublimation Metal Prints
Metal Print Only Metal Print w/ Frame-less Float Mounting
11x17 = $195.00 11x17 = $200.00
12x18 = $220.00 12x18 = $225.00
16x24 = $245.00 16x24 = $250.00
20x30 = $365.00 20x30 = $325.00
24x36 = $365.00 24x36 = $375.00
30x40 = $440.00 30x40 = $450.00
30x45 = $465.00 30x45 = $475.00
32x48 = $510.00 32x48 = $525.00
40x60 = $610.00 40x40 = $625.00

NOTE: ALL PRICES INCLUDE SALES TAX

ANY CUSTOM SIZE YOU DESIRE CAN BE PRINTED UP TO 42" X 62"